Hey... It's been agreed that a few things should be known when you're posting, most of which apply to the role play.
And please know, it is
IMPORTANT
you read all of this below.
Especially
if you are confused about where the pack lives and what is going on. Even if you think you do, the majority of the members don't know what is going on, it seems. So please read anyway.
You don't want to look foolish in front of everyone.
---
First up, you need to know where the wolves are. They aren't living in an Earth-provided area, they live on a fictional, but somewhat realistic, island called Lykos, which looks like this: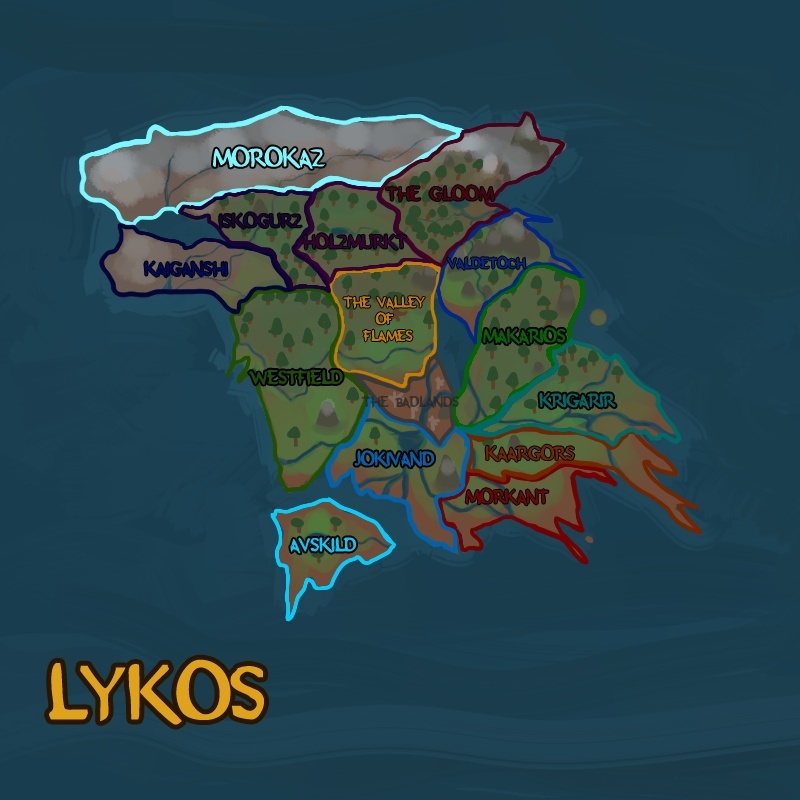 ©RigorM0RTIS/PureBlood
You see that province in the upper right? The Gloom? That is where we
will
live, that
will be
our territory. But as of this current time, this map is inaccurate, because this displays Lykos AFTER the war. The war which hasn't happened yet. The lower left part of The Gloom, roughly a bit less than half, is currently property of the land to the left, Holzmurkt. What the Lurkers plan to do, is claim that lower part as part of The Gloom. Only then can we defend our territory.
The land is currently a part of Holzmurkt, like stated above. We cannot get mad at "intruders", because we are the ones intruding, ourselves. The native Holzmurkt packs that plan to attack us are not intruders, they are simply defending their land.
-
If you want to know about each province (The Gloom; Holzmurkt; ect), those have also been posted. Though not all the lands' information is finished at this time, there is info about most of the ones surrounding The Gloom, as well as a few others:
http://the-shadow-lurkers.forumotion.com/f65-other-lands
In these, you can find:
•Basic Information; Climate and Topography; Animals and Plants; Inhabitants; History; Diets; Sites; Attitude toward Outsiders; Enemies and Allies; and How they care for the Sick and Injured•
It is still a work in progress, but it's
far
better to know
something
about Lykos rather than nothing... Which somewhat brings me to the next thing..
-
When you decide to make your character's biography, you have to know the conditions. You should know what provinces are forest-like, mountainous, plentiful, anything. If you just say your character comes from a dangerous land, that could mean any of the provinces. Any at all. For example, your saying your wolf could be a cannibal from Kaargors, could be an escaped criminal from Avskild, a Dreaded One from Holzmurkt, again, anything. You should first read up on the lands, then decide which best fits your character. It's perfectly fine if you alter the history a bit to match Lykos, it's not like that must be your character's history on every site you go to. It'll just make it so much easier to see a Lykos land in bios than it is to inaccurately, for example, come from a tundra, but not like the only place covered in tundra. Or, another example, come from the mountains, but don't fit in at all into the province with the majority of mountains.
-
You need to know where everything is happening. It's a huge problem, nearly every single member does this.
Every wolf and conversation is not within a 10 yard radius.
If there are wolves on the border of Valdetoch *coughcough*, you CANNOT reply to them from miles away in Holzmurkt. If you are already doing something, don't butt in on other member's role play. With exceptions, of course. If a character is being asked a question, they'd like to answer it themselves rather than have it answered by a wolf who is actually miles away. Speaking of being miles away...
Pay attention to where the member specifies they are as far as location. I believe we just recently added Area 1, Area 2, and Area 3. However many Areas are needed, I guess. A mile is a ways, so you know. A wolf can't walk miles very speedy, so maybe consider their walk as two posts, or as a longer, single post. It will be much more realistic. I know I'd personally like that better.
-
And then there are some things that kinda bother me (personally). So, I'll but this in a hidden thing because it's only my own concerns and annoyment.
Spoiler:

Names are being written/spelled wrong.
**Farran
**Cinder Fire
**PureBlood

Grammar is very much wrong.
They're- they are doing something.
Theirs- they own it.
There- a place.
To- going somewhere
Too- also/over the amount

And sorry about how rude this sounds, but go over your post before you send it. There are so many annoying typos that make you look like you don't care much.

Hope it's not an issue I added this.
➳ TRACKER





Posts

: 79



I really appreciate that you did this post. You've said a lot of things that just need to be said.
Here's a map that I just finished of The Gloom:
It's more of a sketch to show where all the RP areas are in relation to each other, though there aren't any names on the map.
I'll name them all:
The place with seven areas is The Silent Forest.
The place with a big river going through it is The Somnolent River.
The place with the big lake is The Quiescent Lake.
The place with the smaller lake with a 4 over it is The Verdant Wood. It's also the greenest area.
The darkest area is The Hazed Woodland.
The area right above that is also dark is The Bitter Woods.
The yellow-green area is The Vast Field.
The area with the mountains and green is The Dim Cave.
The area with the mountains and dull yellow is The Moor.
The rest is Psychros. The area next to The Moor is The Frozen Plains. The area above it is The Frosted Wasteland. Then the mountain is Mt. Bereavement.
-
Aside from this, regarding your posts... do not post on the biographies unless you have an in-depth valuable comment. If your comment is something that seems like you posted it only to raise your post count (commenting solely on the layout, commenting on nothing aside from welcoming someone or saying nice bio) then
it will be deleted.
Welcomes are for this topic:
http://the-shadow-lurkers.forumotion.com/t61-the-welcoming-topic
They are not for the biographies.
-
As for the RP areas, they are all finished. Currently PureBlood is in Area 2.
It's been decided that this topic will be the topic for those who... need to say something. Not like little things, but things that are (a) important, and (b) have to do with the site.
It's also, despite what I said earlier, isn't just a place to bitch, it's gotta be something that really does concern you or really bother you.


Aaaand, there's more to add on, actually. A few little things I forgot the first time.

-

You're history should not be something along the lines of "he/she doesn't remember", or "he/she doesn't like to talk about it". These aren't accurate back stories. They're kinda just excuses to be lazy any not write a history. If you don't have time to write it yet, go ahead and call it a wip (work in progress) and finish it later. That is far better than claiming your wolf doesn't remember.

See, the problem with that is your character isn't the one writing the bio, you are. You are not limited to your wolf's knowledge. If your character was the one telling you what to fill in on the bio form, the weaknesses would be off, family off, everything would be altered if you wrote your character's biography simply by what they know.

What you know about the wolf goes in the bio, not what he or she remembers or doesn't like to talk about. If you really don't have time, or a clue of what you want the history to be, then, like stated above, just mark it as "wip", take your time, and post it when it's ready.
➳ TRACKER





Posts

: 79



Guys. The "nice bio" comments need to stop. Seriously. I'm going to have to go through the comments again and delete the unacceptable ones.

And stop teleporting in the RP. If you're in one area, you specify where, and you stay there unless your post says you go to whatever area. You can't just hop from area to area. That makes the RP confusing.

And here's a few things about god-moding:

don't do it. God-moding is when your character is incredibly powerful, and almost god-like. It had a pretty broad definition, but generally if a character is described as unbeatable/indestructible/invincible, or incredibly strong and fast and smart (with no weaknesses), there is most likely god-moding. A character that god-modes is impervious to damage, and ignores attacks of other characters, not slowing down or bleeding or succumbing to any wounds.

Succeeding in impossible situations (a lone wolf against legions of armies) can also be god-moding. To sum it up, it's when your character is unbeatable, all-powerful, and unstoppable, and is overall very unrealistic and annoying to deal with.

Now powerplaying is a different matter. Powerplaying is when you control other peoples' characters without permission. Every action your character performs against other characters is an attempt, even if it's playful. Auto-hitting is a part of powerplay, and is very commonly seen in fights.

Basically, auto-hitting is when your character automatically does something to another character (like shoving them, biting them, most/all "fighting" [or playful fighting] actions) without allowing the other character's owner to react to it and decide whether it would strike/hit or not.

Powerplay extends a lot farther than that, though. For example, saying your character dragged another deep into the forest without permission or response from the character's owner is powerplay since you're controlling the character.
Similar topics
---
Permissions in this forum:
You
cannot
reply to topics in this forum